The Georgia Mock Trial Competition helps high school students gain an understanding of the legal system by providing opportunities for teams of high school students to compete in "mock trials" where the participating students assume the roles of lawyers and witnesses in a hypothetical court case. The Georgia Mock Trial Competition is sponsored and conducted by the Young Lawyers Division (YLD) of the State Bar of Georgia. Daniel A. Ragland will again serve as one of the volunteer attorney coaches for the Mock Trial team from the Wesleyan School located in Norcross, Gwinnett County, Georgia.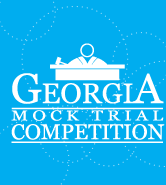 Mr. Ragland also coached the Wesleyan School Mock Trial Team in 2004 and 2005. Each of these teams will compete at the Regional Competition to be held on February 22-23, 2008 at the Gwinnett County Courthouse in Lawrenceville, GA. This year, the Georgia Mock Trial Competition will concern a criminal case about a high school senior who allegedly sold drugs to an undercover police officer. The fictional defendant claims entrapment as his primary defense. The Georgia Mock Trial Competition is designed to help participating students improve their proficiency in such basic skills as listening, speaking, reading, and reasoning. Mock trials help students gain a basic understanding of the legal process through which our society chooses to resolve many of its disputes. And, while obtaining this knowledge, high school students develop useful questioning, critical thinking, and oral advocacy skills, as well as significant insight into the area of law in question.

Since 1988, over 1,200 teams from Georgia's public and private schools have participated in the Georgia High School Mock Trial Competition. Coached by volunteer attorneys and teachers, teams of 14 students work together to prepare their presentations from case materials provided by the YLD High School Mock Trial Committee. In the competition phase, students play the roles of attorneys and witnesses based on the evidence and witness statements given to them. Volunteer attorneys or judges serve as the presiding judges and juror/evaluators. Teams are evaluated on their ability to make a logical, cohesive and persuasive presentation, rather than on the legal merits of the case. Adding to the authenticity of the competition, teams compete in actual courtrooms across the state beginning with the regional competitions. Regional winners gather in Lawrenceville, Georgia, to compete for the state title and a chance to advance to the National High School Mock Trial Championship.